I thought I'd put a report together for those that didn't go/couldn't attend and keep all the pictures in one place for reference.  So here it is.
Gia and I got there at about 8:15 and were having a good old chat with the people around us in the line for Golden Daemon.  They actually let us in at about 9AM to submit our entries and then we were waiting once again to be let into the main arena.
The Golden Daemon/Armies on Parade area was in a sports hall on a different floor so there were a lot of stairs to go from the main arena and back again.
Once we got into the main arena we made a bee line for the Forge World Design stand, grabbed a couple of seminar tickets and then headed for a chat with Trish Carden and Steve Whitehead.  The highlight of the day for both Gia and I was Trish giving Gia a plush toy to represent the Lobster that was sculpted onto the base.  She once again went out of her way and spent time encouraging Gia saying there needs to be more girls and women in the hobby.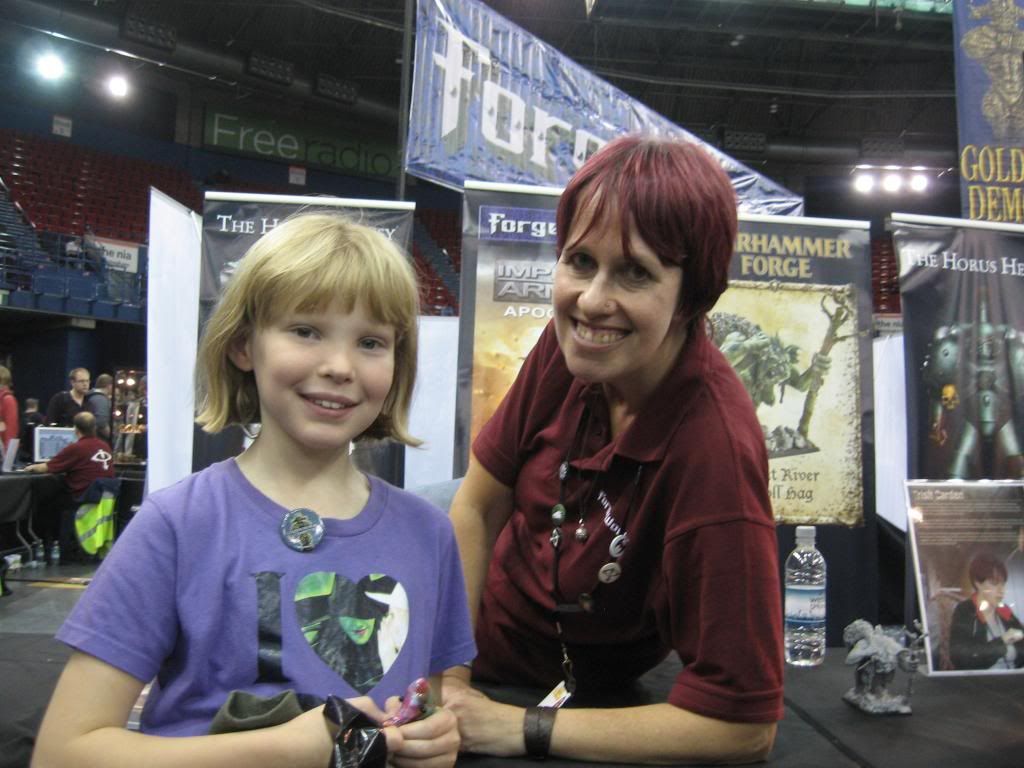 Trish is currently the only sculptor working on Warhammer Forge stuff as almost the entire design team is working on Heresy as it is such a big seller.  Her latest project is the Dread Saurian from the Monstrous Arcanum book.  It is huge.  It took up a whole shelf in a cabinet to its self and is almost complete.  Trish said that she now needs to cut it up ready for moulding so should be passed over to production soon.  I know all the Lizzardmen collectors (and I'm looking at you skink) will be really happy but dreading the price tag
Steve said that the K'Daai is not yet finished and as it is both a freelance project and a big kit it keeps getting pushed back in the production schedule.  There is still more work to be done on the model as well but as he has recently become a Dad his free time is a bit limited at the moment.  His current projects are Night Lord legion "Night Raptor Assault Marines" which look awesome and there were a bunch of Alpha Legion doors and shoulder pads.  He said that the goal is for each legion to have at least two specialist legion specific squads.
After these two chats we braced ourselves and headed into the Sales area.  There were two lines one for Forge World and one for everything else.  It was the best organised I've ever seen the sales areas at one of these events and despite the number of people queuing up it was pretty quick and we were soon at the front grabbing what we wanted from the Forge World stand the way out from the Forge World stand then led into the rest of the sales area and finally into the tills to pay.  
Once we were through it was time for the Seminar.