Arashi
06-12-2007, 01:59 PM
Hello everybody! I recently posted a few pictures of my converted Chaos Dwarfs on Hand of Hashut. Xander then suggested me to visit this site, so here I am
I have been a follower of the Chaos Dwarfs during a really long time, but until this last Christmas I had never went longer then having a blood bowl team with the chaotic stunts. During the Storm of Chaos campaign I started to think again about creating a Chaos Dwarf army out from normal Dwarfs and convert them, as I really loved the Hell cannon and it's crew, but I hadn't enough confidence to do that.
Then, during this last Christmas, there was a member on Warseer who made some excellent conversions out from the BfSP Dwarfs (yes, I know that EE is a member here as well and have posted pictures of his dwarfs here, but I first spotted them on Warseer =P ). I was speechless. They were really incredible, just the kind of miniatures I wanted for a Chaos Dwarf army. So finally, I decided to create my own.
Sadly, due to school work and similar, I didn't had time to work on them. The small amount of time I had went to my Orc army, so it's not until now I have been able to continue on my project. And here are a few pics of them.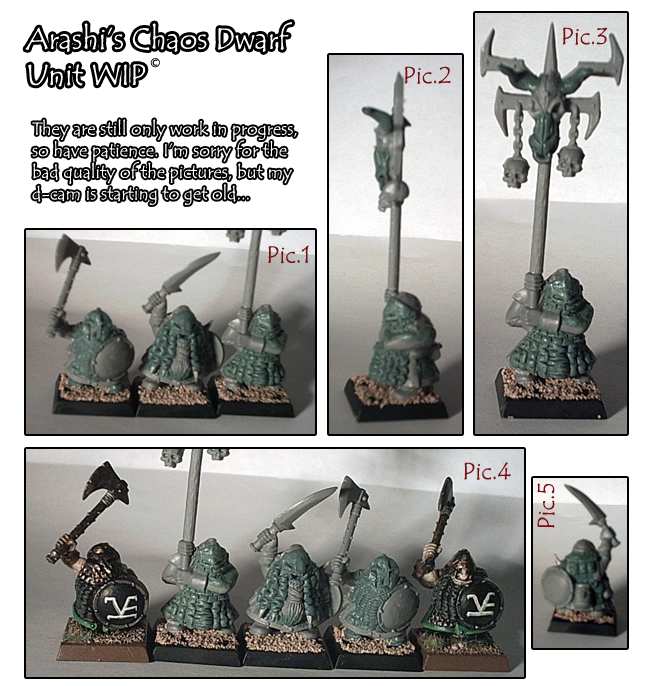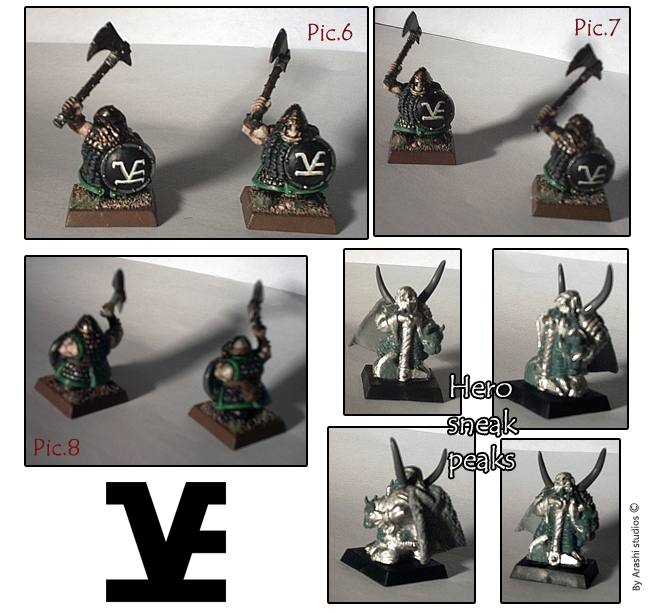 (If you haves any problem to see them, click
here
)
My camera sucks, sorry for that...
Here are a few comments of the pictures:
#1:From left to right, a normal warrior, a champion, and my standard bearer. Even though it's hard to see on that pic, I'm really satisfied with the mask of that warrior.
#2-3: My standard bearer. Yes, I tried to make a bull skull for my banner. I have no idea how a bull skull looks like, but I think it looks great anyways
I just used the Dwarf arms for him, cutting the cloth textures and modelling his muscles with green stuff.
#4: Picture of my "finished" ones (I have five other dwarfs and a converted cannon as well that soon will be finished, but I'm not done sculpting their masks yet).
#5: The back of the units champion. The picture is too small and too blurry, I know...
#6-8: The two painted minis. First I thought about painting them the traditional red, but there is already so many Chaos Dwarfs that have that color, that I decided to go with another color. Then I thought about a dark green, but then it came to me that they could be seen as Nurgle dwarfs, and that wasn't really what I wanted. Besides, I already had an army (my Skaven) with dark green armour, and most "normal" dwarfs are painted using dark green (see GW's homepage). So in the end I went with a lighter scorpion green, as I love that colour. And I don't think I have ever seen any other Chaos Dwarf with that color scheme either. Anyways, I'm really glad I tried it, it really fits together with the bronze masks. As for the motive of the shield, I used Hashuts rune. I think the old CD symbols (the crushed skull, the skull cut in half and with the fire on the top, and the later added (think it was added for Blood Bowl first) skull with red bull horns) are a little out of date and that they don't really have much of an connection with the Chaos Dwarfs (they can easily be mistaken with i.e. symbols for the undeath), so I wanted to have a more direct relate symbol to their god Hashut, so what's better then the rune of Hashut itself?
Picture 8 also shows the back of these miniatures and their armour.
"Hero" pics: It's still a WIP. I made it out from the most common Dwarf Hero. The mantle is from mordheim (I think?), and the horns from the plastic Orc hero's boar. The idea of the horns on his shoulders comes from a conversion of a CD warlock I saw some time ago, I think that person used the same miniature for his conversion. I added a mask to his helmet, which I think is okay...
So, please give me your opinion of them. I really want to know what other experienced CD gamers thinks about them. ^^
(yes, most of the text is copied and pasted from HoH...)