---
Golden Hat XXXI - Winners! - Admiral - 11-23-2018 11:42 AM




"It snorts and stampedes!"
---


Warcolours Presents: The winners of the 31st Golden Hat competition!

We had a great turnout of entries, with submissions spanning from flying monstrosities to worshipped idols and wacky creations. Voting was even. It was very nice to see all these weird and wonderful Chaos Dwarf creations!


And the winners are:

1



2



3
1st Place - Golden Hat Winner: Entry #3 - Abecedar
2nd Place - Silver Hat Winner: Entry #5 - HPN
3rd Place - Bronze Hat Winner: Entry #4 - Admiral

And an honourable mention to Zanthrax, who trailed bronze with two votes.


The entry key!
You can share your love for each entry by donating slaves to the owners of the entries!

01 - Zanthrax
02 - Uther the Unhinged
03 - Abecedar
04 - Admiral
05 - HPN

Slaves and medals are coming! Should you have earned a new Veteran's Medal (gained at 5, 10, 15, 20, 25 and 30 main contests entered), please contact us and link us all your entries in all previous Golden Hat and Artisan's Contest competitions (note: Scribe's Contest does not count towards this purpose, but have its own Veteran Scribe's Medal).

And now for the prizes!

First off, Abecedar will receive a €30 store coupon at Warcolours, courtesy of Poison...



...plus a Pantry Produce Set - Twisting Catacombs, from Zealot Miniatures:



And good job to HPN, who entered a fully sculpted mounted miniature and raked in 13 Sons of Adramelech, courtesy of Werewoolf Miniatures!




While Zanthrax will get to choose one 3D-printed item from Kamphre:



And finally congratulations to Uther the Unhinged who by random prize draw wins an Tjubling Skull Mask Command Group!: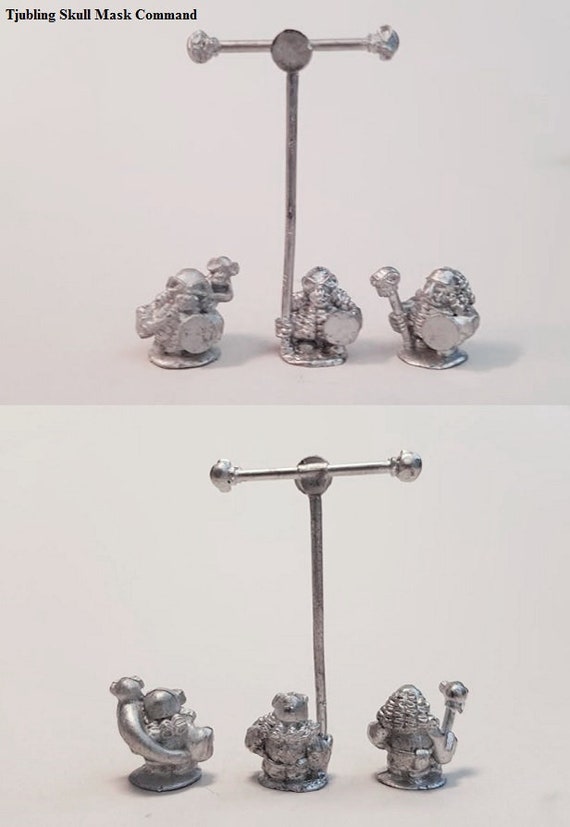 A big "thanks" to everyone who participated and voted, as well as a big thanks to Kamphre, Werewoolf Miniatures and Warcolours for their generous prize donations!

And that's it for this round of Golden Hat. Now let's see the participants' entries in the blogs.


The Staff


---
RE: Golden Hat XXXI: Winners! - HPN - 11-23-2018 01:19 PM

Thanks and congratulations to everyone! Small number of entries but some nice ideas on a such broad Contest Subject!


---
RE: Golden Hat XXXI: Winners! - Zanko - 11-23-2018 01:28 PM

Congrats to the winners!


Great entries guys!
---
RE: Golden Hat XXXI: Winners! - TheHoodedMan - 11-23-2018 03:45 PM

Congratulations! Really nice and very different entries.


---
RE: Golden Hat XXXI: Winners! - Uther the unhinged - 11-23-2018 03:55 PM

Congratulations to the worthy winners! Fatastic ideas and great skills




---
RE: Golden Hat XXXI: Winners! - Fuggit Khan - 11-23-2018 10:32 PM

Congratulations to everyone, very nice and imaginative entries

And Abecedar! I absolutely love your entry! ♥ ♥ ♥ !!!
Well done on a very well deserved Gold
---
RE: Golden Hat XXXI: Winners! - Nicodemus - 11-24-2018 01:23 AM

Congratulations!!! Well done getting these entries in at what is often a difficult time of year!


---
RE: Golden Hat XXXI: Winners! - Zanthrax - 11-24-2018 04:44 AM

Awesome work everyone with a great theme


---
RE: Golden Hat XXXI: Winners! - tjub - 11-24-2018 05:51 AM

Congrats, well done all!
---
RE: Golden Hat XXXI - Winners! - Will Liam - 11-25-2018 04:56 PM

I really liked all of them and my favourite got first place
great job to everyone who entered


---
RE: Golden Hat XXXI - Winners! - Abecedar - 11-26-2018 02:15 AM

Woo Hoo. Gold for a Golden Hat. Never thought that would happen.
Thank you everyone, who entered and voted.

Blog pics will be a week away as I'm holidaying up in Sydney.


---
RE: Golden Hat XXXI - Winners! - Grimstonefire - 11-29-2018 04:43 PM

Congrats all. I'm surprised actually that nobody did the new flaming bull from GW. Crossed my mind when this was announced to paint that but completely forgot!
---